International Symposium of the 11th SSMS…
2017.10. 3
International Symposium of the 11th SSMS and the 5th RCND 2017 was held in Bangkok, Thailand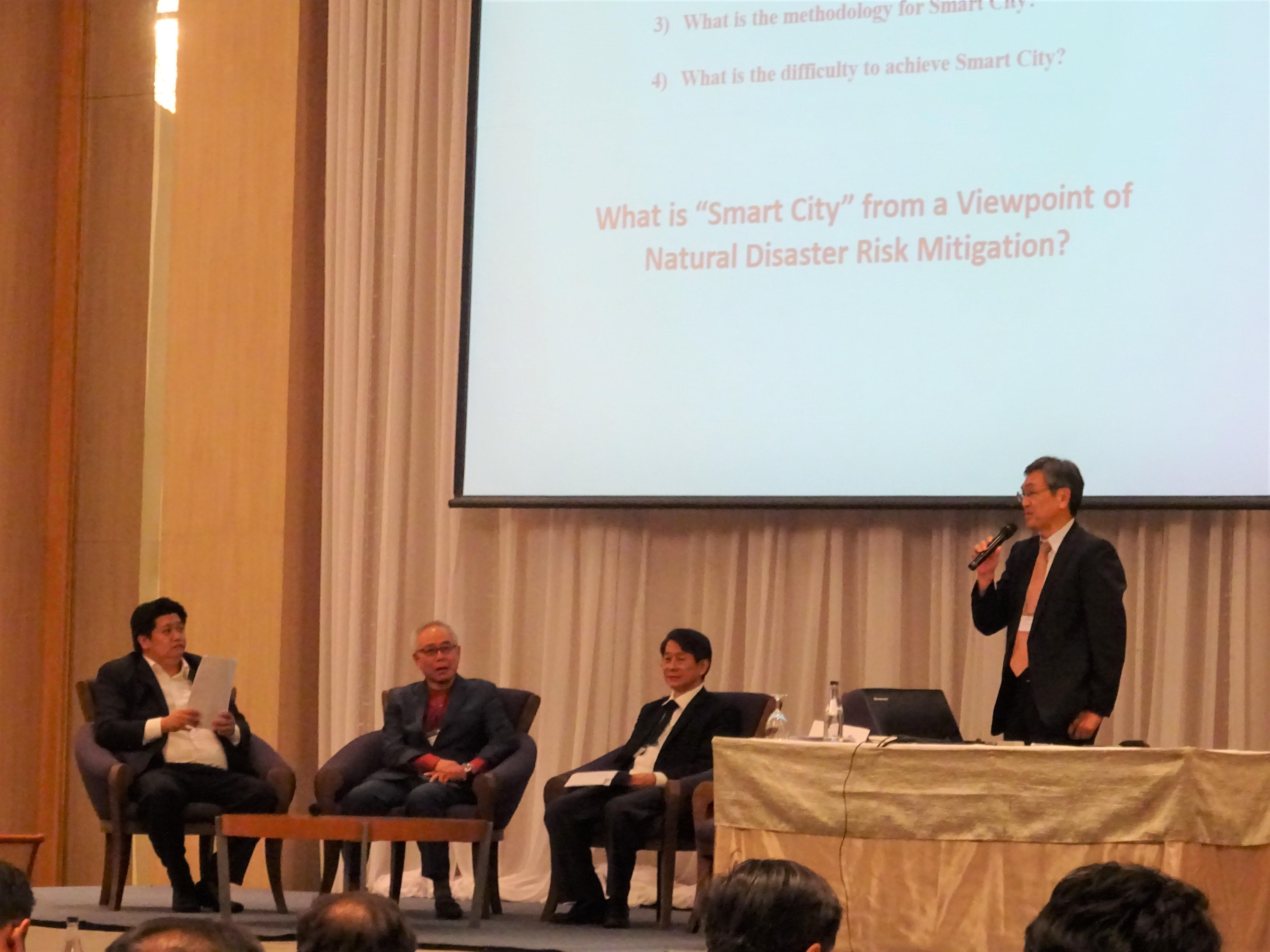 On September 20th-21st, International Symposium of the 11th SSMS and the 5th RCND was held in Bangkok. This symposium was co-hosted by Society for Social Management Systems (SSMS), Regional Conference on Natural Disaster supported by JICA, Japan Association for Human Environmental Symbiosis and Chulalongkorn University. The theme is "Smart City for Resiliency".
Around 120 participants from various academic fields joined the symposium and 93 among them presented their papers.
[Breakdown of the papers]
Disaster, Resilience and Management: 37
Environment and security of Water, Energy, Food, and movement of NEXUS: 18
Infrastructure Planning and Management, Asset Management: 17
Entrepreneurship and Regional Revitalization, Starting up Promotion: 10
IoT and Smart City: 8
Sustainability and Quality of Happiness: 3


SSMS which was established in Kochi University of Technology started to hold a periodic symposium in 2007. The mission of SSMS is to make a practical contribution to the improvement of social systems. One of the activities to realize this mission is to provide a place to present the most excellent research papers, as well as a place for the exchange of ideas and information among researchers. This activity is supported mainly by Research Center for Social Management Systems in Kochi University of Technology.



Schedule

20th Sep, 2017
9:00-9:40 Opening Ceremony
9:45-10:35 Invited Lecture 1
"Future change analysis of extreme rainfall and floods using large ensemble climate simulation data"
- Prof. Yasuto Tachikawa, Department of Civil and Earth Resources Engineering, Graduate School of Engineering, Kyoto University, Japan
10:35-11:00 Coffee Break
11:00-11:50 Invited Lecture 2
"Transformative Urban Management and Governance to achieve SDGs"
- Dr. Bharat Dahiya, Senior Advisor Urbanist, Environment Development and Sustainability Program Chulalongkorn University, Thailand
11:50-13:15 Lunch/SSMS Award Ceremony
13:15-14:45 6 Parallel Sessions
Room A: Disaster, Resilience and Management 1
Room B: Disaster, Resilience and Management 2
Room C: Infrastructure Planning and Management, Asset Management 1
Room D: Disaster, Resilience and Management 3
Room E: Disaster, Resilience and Management 4
Room F: Disaster, Resilience and Management 5
14:45-15:05 Coffee Break
15:05-16:35 6 Parallel Sessions
Room A: Disaster, Resilience and Management 6
Room B:Environment and security of Water, Energy, Food, and
movement of NEXUS 1
Room C: Entrepreneurship and Regional Revitalization, Starting up Promotion 1
Room D:Environment and security of Water, Energy, Food, and
movement of NEXUS 2
Room E: Disaster, Resilience and Management 7
Room F:IoT and Smart City 1
16:35-16:45 Break
16:45-18:20 6 Parallel Sessions
Room A: Disaster, Resilience and Management 8
Room B: Infrastructure Planning and Management, Asset Management 2
Room C: Disaster, Resilience and Management 9
Room D: Disaster, Resilience and Management 10
Room E: Environment and security of Water, Energy, Food, and
movement of NEXUS 3
Room F: Infrastructure Planning and Management, Asset Management 3
18:20-18:30 Break
18:30-21:00 Banquet


21st Sep, 2017
9:00-9:40 Invited Lecture 3
"Implications of SDGs in Urban Risk Management"
- Prof. Ravi Sinha, Department of Civil Engineering, Indian Institute of Technology Bombay, India
9:45-10:25 Invited Lecture 4
"A Semantic & Multimedia Computing System for Environment and Disaster-Analysis with "SPA & Multi-Dimensional World-Map System"
- Prof. Yasushi Kiyoki, Faculty of Environment and Information Studies, Keio University, Japan
10:25-10:40 Coffee Break
10:40-11:20 Invited Lecture 5
"Smart City in Thailand -concept and implementation-"
-President Colonel Sanpachai Huvanandana, CAT Telecom Public Company Ltd.
11:25-12:15 Panel Discussion
Theme: Smart City for Resiliency
1. Prof. Hiroyasu Ohtsu, Kyoto University, Japan
2. Prof. Sucharit Koontanakulvong, Chulalongkorn University, Thailand
3. Prof. Yoshitsugu Hayashi, Chubu University, Japan
4. Dr. Lal Samarakoon, Asian Institute of Technology, Thailand
5. Dr. Harkunti Rahayu, Bandung Institute of Technology, Indonesia
12:15-13:15 Lunch
13:15-14:45 5 Parallel Sessions
Room A: Infrastructure Planning and Management, Asset Management 4
Room B:Environment and security of Water, Energy, Food, and
movement of NEXUS 4
Room C: Aging Society Planning, Operation and Management 1
Room D: Disaster, Resilience and Management 11
Room E: IoT and Smart City 2
14:45-15:00 Coffee Break
15:00-16:30 6 Parallel Sessions
Room A: Infrastructure Planning and Management, Asset Management5
Room B: IoT and Smart City 3
Room C: Environment and security of Water, Energy, Food, and 
movement of NEXUS 5
Room D: Sustainability and Quality of Happiness 1
Room E: Entrepreneurship and Regional Revitalization, Starting up Promotion 2
Room F: Entrepreneurship and Regional Revitalization, Starting up Promotion 3
16:30-17:00 Closing Ceremony