Professor Fujita was selected for Highly…
2020.12. 7
Professor Fujita was selected for Highly Cited Researchers three years in a row
Highly Cited Researchers 2020 was released by Clarivate Analytics on November 18, and Prof. Takeshi Fujita of Kochi University of Technology's School of Environmental Science and Engineering was selected in the cross-field category for three consecutive years.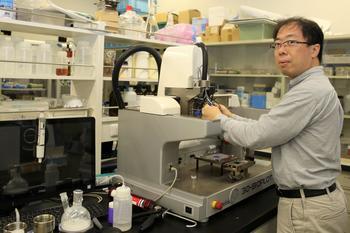 Clarivate selects Highly Cited Researchers who have demonstrated significant influence in scientists and social scientists field on the basis of citation analysis to identify papers. This year 6,167 researchers from approximately 60 countries who active in various fields were listed.In the cross-field category that Prof. Fujita was selected the researchers who have performed great achievements comprehensively are selected based on the papers which impacted multiple fields significantly.
Reference : Highly Cited Researchers 2020
The Micro-structure Control Laboratory of Professor Fujita is conducting research on the production of nano-porous metals using electron microscopes, and the development of novel materials using 3D printers. As it progresses, this research is expected to lead to application and development in other areas such as the fields of energy and the chemical industry, through the creation of breakthrough catalysts that efficiently activate the methane that is abundant in natural gas, the manifestation of free micro-structure control and multi-functionality in materials (electrode catalysts and thermoelectric materials), and other achievements. In addition, as the leader of Research Unit for Advanced Characterization for Future Materials, from fiscal 2020 Professor Fujita have been utilizing advanced electron microscopes to minutely understand the micro-structure and crystalline structure of various substances, with the aim of creating new substances based on nano-control.
Research group led by Prof. Fujita develops new catalyst for converting greenhouse gases yo hydrogen and chemical raw materials by light irradiation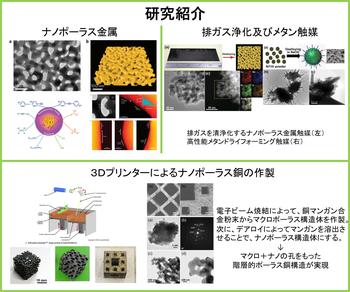 In response to the selection, Professor Fujita commented, "I am keenly aware that research is a day-by-day cumulative process. I will make efforts to be selected every year."