Students Won Student Poster Award in 27t…
In the 27th International SPACC Symposium, which was held online under the organization by the Society of Pure and Applied Coordination Chemistry (SPACC) on December 10th and 11th, Nikita Madhukar (second-year student in the Engineering Course of the Doctoral Program under the supervision of Associate Professor Akitaka Ito from the Laboratory for Photofunctional Chemistry) and Marino Miwa (second-year student in the Chemistry Course of the Master's Program under the supervision of Associate Professor Akitaka Ito from the Laboratory for Photofunctional Chemistry) received the Student Poster Awards. These awards were given to exceptional poster presentations. 3 students' posters were selected from 14 presentations given during this symposium.
Ms. Nikita Madhukar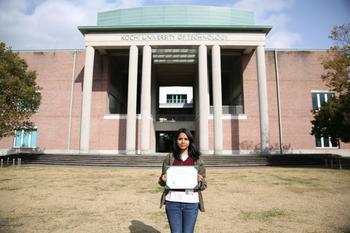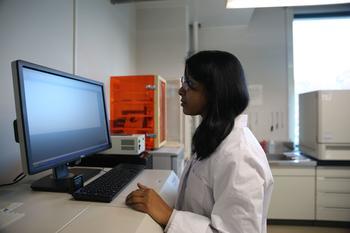 The theme presented by Ms. Madhukar was Sensitized Luminescence from Terbium(III) Ion Doped in Ionic Nanosphere. Lanthanoid(III)-based luminophores have been utilized in various applications such as sensors, photovoltaics, display devices and so forth. Luminescence from lanthanoid(III) species, however, is quite weak. Therefore, development of strongly-luminescent lanthanoid(III) system is of primary importance. To overcome this issue, we have attempted a very simple technique using ionic nanospheres, a class of ion-exchange resins. Upon doping terbium (III) ion in the ionic nanosphere, luminescence from terbium (III) ion was successfully enhanced by utilizing the light absorption of the nanosphere followed by the energy transfer to terbium(III) ion. Our system can provide intense lanthanoid (III) luminescence facilely, irrespective of the element. Thus, it will be used as a choice of the lanthanoid (III) luminophores.
Upon receiving this award, Ms. Madhukar commented, "It is an enormous honor for me to have won Student Poster Award in The 27th International SPACC Symposium. I had the opportunity to present my work in front of eminent scientists who were present at the conference, which was a tremendous opportunity for me. I want to sincerely thank my supervisor, Associate Professor Akitaka Ito for always being an inspiration to me and motivating me to improve both my research and conference participation. I intend to keep doing research and give it my all to advance in my field."
Ms. Marino Miwa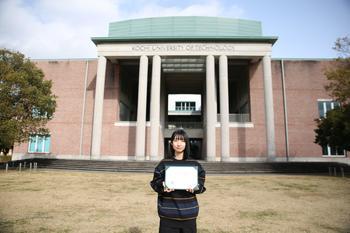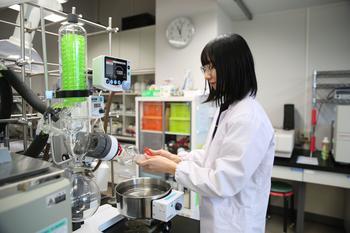 The theme presented by Ms. Miwa was Fluorescent Solvatochromism of Charge-Transfer-Type Compounds Having A Nitro Group. Fluorescent organic compounds, which emit from the excited state generated by the light absorption, have been used in various photochemical applications such as organic light-emitting diodes (OLEDs). This study targets fluorescent solvatochromism, which is fluorescence color change by the solvent. In order to obtain this phenomenon, a large change in the electron distribution upon the light absorption is required. Our compound with a strong electron-withdrawing nitro group exhibited a fluorescence color change ranging from blue-green to red depending on the solvent. Although most compounds with a nitro group(s) are non-fluorescent, it has been discovered that fluorescence is obtainable by an appropriate molecular design. These findings can be applied to sensing for the surrounding environment (e.g.chemical sensors and bioimaging).

Upon receiving this award, Ms. Miwa stated, "I am delighted to receive this wonderful honor. From the bottom of my heart, I would like to thank Associate Professor Ito, who was my supervisor, and everybody who was involved in this study. In April, I will begin my Doctoral Program and engage in my research activities with a renewed sense of purpose."