Kochi University of Technology and Unive…
2016.12. 6International
Kochi University of Technology and University of Stuttgart sign a Cooperation Agreement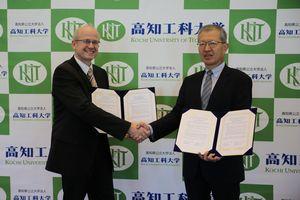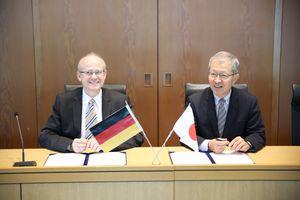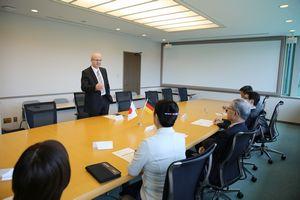 The Research Institute of Kochi University of Technology (Director, Ryo Kumura) and The Institute of Large Area Microelectronics of University of Stuttgart (Director, Norbert Fruehauf), Germany signed an Academic Cooperation and Student Exchange Agreement on Dec. 5th at Kami-Campus.
In Kagamino Hall, Prof. Fruehauf and Prof. Kimura officially signed the document in a friendly atmosphere. Prof. Mamoru Furuta (School of Environmental Science and Engineering), Prof. Li Chaoyang (School of Systems Engineering), Prof. Shinichiro Sakikawa (Director of International Relations Center) were present at the signing ceremony.
Prof. Fruehauf said " It was seven years ago that I visited KUT for my research. Since then, we have exchanged students from both universities. This is a great opportunity to open a new chapter for research collaboration ". Prof. Kimura responded, " We will encourage many KUT students and researchers to visit Stuttgart University ".
In March 2011, 10 students and 6 faculty members and staffs of KUT visited University of Stuttgart as part of a European study tour and in 2014 and 2016, two Japanese students conducted their research. Also, from University of Stuttgart, KUT accepted one student for doctoral course and three internship students for masters course. This paved the way for signing the Cooperation Agreement.

* Stuttgart University is a public university founded in 1829 and 27,200 students are studying at 10 departments, including Civil Engineering, Architecture and Urban Planning, Chemistry, Computer Science, Mathematics and Physics, and Management. The University is a member of an association of the nine most prestigious, oldest, and largest technical universities in Germany (TU 9), featuring interdisciplinary research aimed at the future.