Prof. Somnuk Tangtermsirikul, Director o…
2017.2.27International
Prof. Somnuk Tangtermsirikul, Director of Sirindhorn International Institute of Technology, Thammasat University visited Kochi University of Technology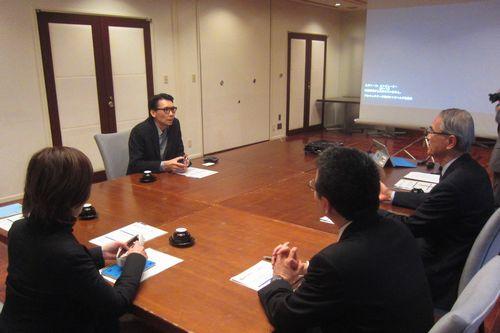 On February 17th, Prof. Somnuk Tangtermsirikul, Director of Sirindhorn International Institute of Technology (SIIT), Thammasat University, Thailand visited Kochi University of Technology (KUT). SIIT is one of the longtime partner universities of KUT.
Since SIIT and KUT signed the general agreement in 1998 with the cooperation of Prof. Somnuk soon after KUT was founded, KUT has accepted many SIIT students or vice versa.
President Masahiko Isobe, Prof. Shinichiro Sakikawa, International Relations Center and Prof. Masahiro Ouchi, School of Systems Engineering, welcomed Prof. Somnuk and they discussed further cooperative framework to promote educational and research exchanges after both parties shared the latest information on their university and their international programs.