Professor Nishiwaki's research paper fea…
2021.11.19About KUT / Academics / Research
Professor Nishiwaki's research paper featured in the U.S. chemistry journal and selected as the front cover
A research paper by Research Associate Kento IWAI and Professor Nagatoshi NISHIWAKI at the Research Center for Molecular Design (Research Center), School of Environmental Science and Engineering, was featured in the issue of the U.S. chemistry journal The Journal of Organic Chemistry published on October 1 (Volume 86, Issue 19, 2021), and selected as the front cover.
This is an academic journal for the fields of organic chemistry and bio-organic chemistry, established in 1936 and published by the American Chemical Society. Among the 57 journals listed in the organic chemistry category, this journal has the second highest number of citations (98,696) after Organic Letters (based on 2018 "Journal Citation Reports" by Clarivate Analytics).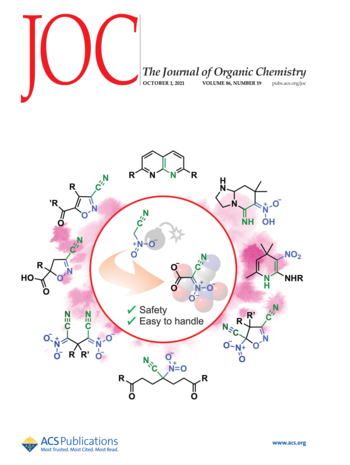 Professor Nishiwaki et al. are engaged in specialized research in the areas of organic synthetic chemistry and heterocyclic chemistry. They are working to develop facile methods for efficient synthesis of multiply functionalized compounds that have been difficult to synthesize.

The title of the recently published paper is "Nitroacetonitrile and its Synthetic Equivalents"
Nitroacetonitrile is useful as a synthesis unit enabling simultaneous introduction into a framework of a cyano group and nitro group, but it is hard to handle due to its explosiveness. This paper shows that, by making cyano-aci-nitroacetate more readily soluble in organic solvents, it can be used as a safe, easy-to-handle substitute reagent for nitroacetonitrile, and this provides a new synthesis method for the field of developing pharmaceuticals and agricultural chemicals.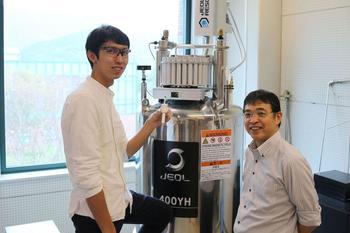 (Left : Research Associate IWAI, Right : Professor NISHIWAKI)
Professor Nishiwaki says, "We have previously developed synthesis tools that can be used by many researchers. In the future too, we hope to continue moving forward with research while maintaining that same posture. Research Associate Iwai, a graduate of Kochi University of Technology, says, "I chose this path because I enjoy creating things at the molecular level. Together with Professor Nishiwaki, my former supervisor, I want to focus all my efforts on research."
The Journal of Organic Chemistry can be viewed here