On June 4th, the annual "Kami City Cleaning Day" was held.
20 international and Japanese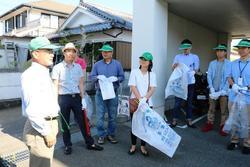 students joined this regional contribution activity to respond a call for participation from Kami City International Association.
After receiving warm words of encouragement from Shoichi Hokoin, Mayor of Kami City, KUT students from Thailand, Vietnam, China, U.S, Sri Lanka, and Japan took a part of this cleaning up event while walking along Monobe River.
Ms. Rutthongjan Phimolphan(KUT student from Thailand):
"This activity is good for foreigners because we can made our city clean that we love. We had a chance to make a communication with foreign friends who live in Kami City. It was an enjoyable experience and I was happy to see the beautiful nature, specially Monobe River. Also, this cleaning activity was a good exercise for me walking together with my friends under the beautiful sunshine."