Three-campus joint emergency drill in pr…
On October 20th, evacuation and emergency drill in preparedness for a major disaster was held jointly by the three campuses of the two universities under Kochi Prefectural Public University Corporation
At Kochi University of Technology, this drill has been conducted yearly to ensure preparedness for a disaster such as a Nankai Trough earthquake which would involve extensive damage. The drill consists of two parts: an evacuation drill and a disaster response drill.
This year, the evacuation drill was conducted jointly by the three campuses for the first time, in the form of a disaster scenario with sharing of information such as epicenter location and tsunami timing, using tools including radio communication.
This time the simulation was "a major earthquake in the Nankai Trough area measured in Kami city as having intensity more than six, with a major tsunami warning issued across a wide area along the Pacific coast."
About 1,000 people participated, including faculty members, administrative staff, and Japanese and international students. As soon as they heard the first announcement that a disaster was happening, they hid in safe places such as under desks until the earthquake stopped, and then evacuated to the campus green and the sports field, the designated evacuation areas. Under highly competent direction and guidance, the evacuation was completed promptly, with the three campuses sharing information.
The second part, the disaster response drill, was conducted under the instructions of the disaster task force which had been established based on the earthquake disaster prevention plan. The task force works in close cooperation with the Kami City Fire Defense Headquarters, Kami City Hall and the Nankoku Police Station, utilizing information gathered by the volunteer fire brigade organized by KUT administrative staff. A scenario and role playing were provided: in a place where "fire" broke out, the first aid fire fighting team went into action while the safeguarding team and the medical aid team worked in coordination to administer first aid to people with both minor and serious injuries and to arrange transportation to hospitals. In that highly realistic simulation where flexible responses were needed, the participants were clear about their roles and took appropriate action. This realistic drill was a definite success.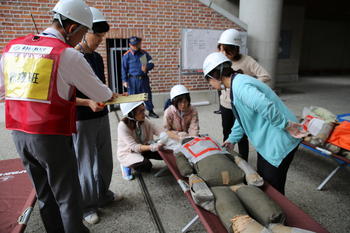 Although such drills are conducted in line with existing plans, in order to prepare for unexpected disasters we must continuously stage frequent drills to ensure full readiness to respond promptly and precisely to disasters at any time in the future.