Outline of Graduate School
Outline of Graduate School
Structure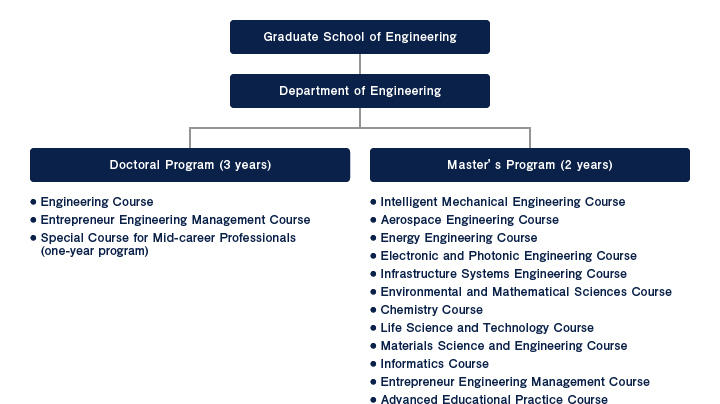 Objectives
In our modern age, every human activity is global and borderless, thanks to developments in information technology.
Information crosses borders instantaneously, and the borders between countries are vanishing; as a result, the world economy is moving towards a single free market, and a new human network, divorced from nationality and region, is emerging. On the other hand, this explosion of far reaching human activity is producing some global problems, such as environmental crises, to which ordinary science and technology cannot respond.

In such a changing world, Japan's role is to develop creative, pioneering technology and concepts which can lead the world, and to incorporate them into new industries which will open up new frontiers. In order to respond to this challenge and to foster the development of human resources that can play an active role in the coming society with a global perspective, we have established our Graduate School of Engineering.
Characteristics
Serious Emphasis on Interdisciplinary Study
Stressing academic work as a composite of disciplines, the KUT graduate school consists of only one department so as to allow students acquire a broad view of engineering. This reflects the university's intention to cultivate people with a broad perspective, open to various points of view, and to avoid fragmentation into narrow fields of study.
Close Link between Undergraduate and Graduate Schools
We consider it important educationally that the undergraduate and graduate schools work together; this is advantageous for both schools. We view engineering as one system, a systematic combination of various fields. For this reason we link undergraduate education, in which students learn technology from a macrocosmic perspective, and graduate school education, which is centered around cutting edge technology recently spawned by tangential scientific fields. This is the systematic basis for our education methodology.
The Engineering Course and the Entrepreneur Engineering Management Course of the doctoral program offer the Special Scholarship Program, which exempts recipients from school fees and pays 150,000 yen per month as salary for advanced research project work. This is a English-medium PhD program.
Entrepreneur Engineering Management Course
The Entrepreneur Engineering Management Course, known until 2017 as the Entrepreneur Engineering Course, was established to provide education and training for people currently in the workplace. The Course presents a form of entrepreneurial engineering that combines technology and management for application in the practice of entrepreneurship.
Since the establishment of the original entrepreneur course, society has evolved and various new research themes have emerged, including: a) "second-time startup" or business succession by small and medium enterprises; b) launch of social work initiatives by NPOs; and 3) regional revitalization projects by local administrations. With those changes, the range of entrepreneurial concepts has expanded, and as a result the entrepreneurship approach set out by KUT has evolved from the simple establishment of new companies to include means of resolving issues within various organizations, and of adapting to change. The course was renewed to empower professionals to take true leadership roles in the anticipated era of negative growth.
In terms of instruction, we provide a balance of practice-oriented instructors with abundant business experience and researcher instructors with deep and well-balanced knowledge. This enables the students to work in small group scenarios to master management theory and acquire practical skills through attentive research guidance and a well designed curriculum.
To accommodate those who must continue working while they study, the course provides lectures mainly on Saturdays and Sundays. Also, the program reaches beyond the campus in Kochi: teleconference style lectures are available in Tokyo and Osaka, and lecturers are dispatched to various urban centers.