School of Systems Engineering
School of Systems Engineering
Mastering deep expertise and a wide range of viewpoints through combinations of majors and minors
In the manufacturing scene, there is an ever greater need for flexible responses to various changes in society, for the development of products with innovative concepts, and for the creation of new business sectors. It is crucial to note that manufacturing can never be possible in the context of a single field of technology.
For that reason, the School of Systems Engineering sets out to foster engineers who have a wide range of viewpoints and deep mastery of the fundamentals covering the five fields that constitute the foundation of industrial technology (mechanical engineering; aerospace engineering; electronic and photonic engineering; architecture and infrastructure systems; and energy engineering) and subsequently pursuing superlative expertise in those fields.
This is a rather innovative educational program in which students can acquire a systematic view of manufacturing as system construction, and master advanced expertise in each major. Rather than studying a single field, students can combine majors and minors to widen their study of the field of engineering, and to cultivate the abilities required for futuristic manufacturing.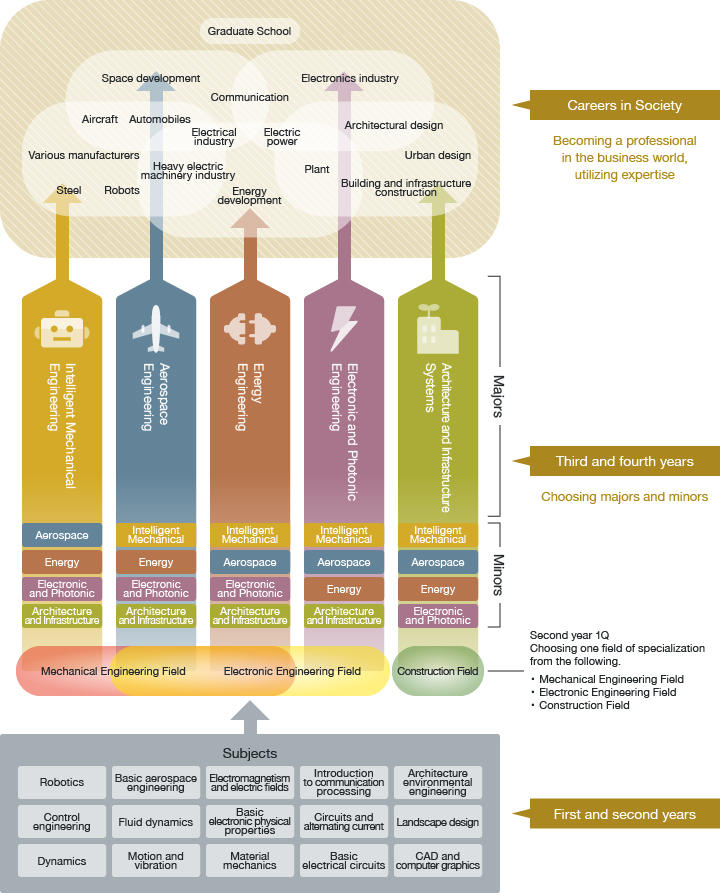 Creating innovative engineering beyond existing frameworks
In order to pursue manufacturing in a comprehensive manner and thus contribute to the construction of a foundation for future society, the School of Systems Engineering has been stepping forward into a new system since 2015. The new component of this system, Energy Engineering, was added to our existing majors (Intelligent Mechanical Engineering, Aerospace Engineering, Electronic and Photonic Engineering, and Architecture and Infrastructure Systems). Why is the term "energy" included? Every aspect of our lifestyle, urban infrastructure such as roads, railways, electricity, water and gas, and functional elements such as home electric appliances, automobiles, houses and townscapes, all are created by manufacturing technology. However, it is not possible to support and drive society with material things alone. Energy is essential to operate machines, to construct and maintain urban infrastructure, and to use information networks. In Japan in particular, a country which does not have subterranean resources such as crude oil and natural gas, there is a high demand for research towards extensive, path-breaking development of energy resources, including natural energy.

To meet that demand, our five majors, which are in fact the mainstream elements of manufacturing, work together to promote technical development in the boundaries between disciplines without each major being constrained by the practices and frameworks of the other majors. The School of Systems Engineering aims to create innovative civil engineering for the work to develop social infrastructure that is safer, more secure, more comfortable and less burdensome on the environment.
Majors
Intelligent Mechanical Engineering
Aerospace Engineering
Energy Engineering
Electronic and Photonic Engineering
Architecture and Infrastructure Systems