Takasone Dormitory C (Eikokuji Campus)
Takasone Dormitory C (Eikokuji Campus)
Takasone Dormitory C
The Takasone Dormitory C is a new dormitory for Kochi University of Technology (KUT). It is located in the east of Eikokuji campus in Kochi city, and opened in September 2021. The dormitory has modern furnishings and has good access to many neighboring convenient facilities. Like the I-House dormitory on the Kami campus, it is a multi-cultural accommodation for KUT students. International students can enjoy this living-learning environment to develop a better understanding of Japanese culture through enjoying their daily life with Japanese students.
Takasone Dormitory C is more than simply accommodation, because it offers unique experiences for students, faculty, staff and local community members to explore other cultures and develop mutual respect and friendship with individuals of different backgrounds. A Japanese dormitory manager will be stationed in Takasone Dormitory C to support your new life in Kochi.
Facility outline
There are 40 single rooms, each with its own bathroom and kitchen
Male and female areas are separated by a security door
On the 1st. Floor, there is a common lounge that is equipped with a TV, tables and chairs, and a kitchen with a fridge and a microwave
On each floor, there are separate laundry rooms for men and women
The building's main entrance has an auto-locking door and security camera
Fees
Room fee
30,000 yen/month
Common service fee
30,000 yen/year

Utility fees (heat, light and water)

10,000 yen/month + tax

(not included in the room fee)

Entrance fee (for cleaning & repair)*

30,000 yen
* One-time fee upon entrance into a new room
Entrance fee for students staying less than 6 months : 15,000 yen
International House and Takasone Dormitory C are located in different municipalities (city) and have different facilities, so there are differences in utility costs, etc. Please note that utility costs are subject to change without notice.
Notes
The dormitory is located 2.6 km from KUT's Eikokuji Campus in Kochi city (15 minutes by bicycle)
Internet access in the dormitory is free of charge.
Each student room has Wi-Fi access.
Smoking is prohibited throughout the building.
Overnight lodging for guests is prohibited.
Parking spaces for bicycles and motorbikes are available.
*Parking spaces for cars are not available.
If the number of international students wishing to move in exceeds the number of rooms available, International Relations Center will select applicants based on the financial situation of the international student (scholarships, etc.) and the length of their stay.
Floor of a single room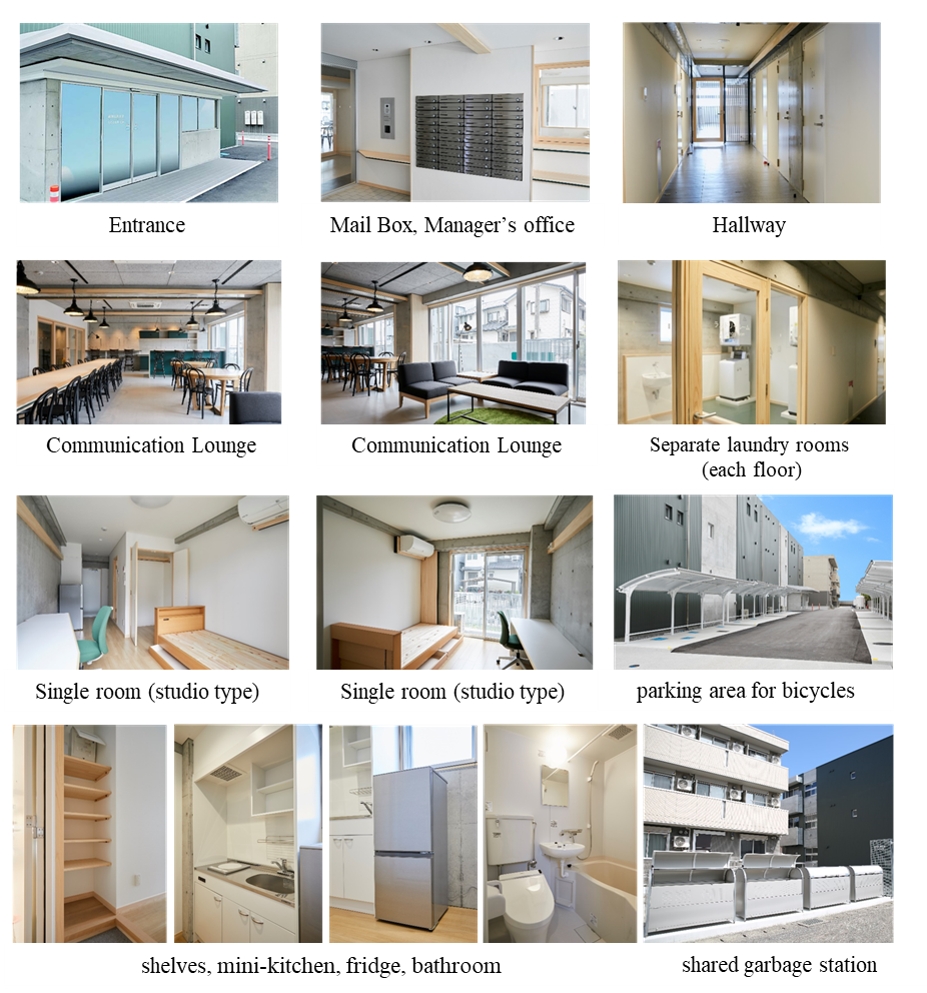 Access