International House(Kami Campus)
International House(Kami Campus)

Kami Campus
International House at Kochi University of Technology (KUT) was established in October 2013 as multi-cultural on-campus accommodation for KUT students. International students can enjoy this living-learning environment to develop a better understanding of Japanese culture through daily life with Japanese students. More than simply accommodation, International House offers unique experiences for students, faculty, staff and local community members to explore other cultures and develop mutual respect and friendship with individuals of different backgrounds.
Facility outline
84 single rooms. Male and female areas are separated. Two room types are available.
A-type (with kitchen) : 31 rooms (18 square meters)
B-type (without kitchen) : 52 rooms (13 square meters)
Handicapped room (with kitchen): 1 room
Fees
| | A-type | B-type |
| --- | --- | --- |
| Room fee | 30,000 yen/month | 27,500 yen/month |
| Common service fee | 2,500 yen/month | 2,500 yen/month |
| Entrance fee (for cleaning & repair) * | 30,000 yen | 30,000 yen |
* One-time fee upon entrance into a new room
Entrance fee for students staying less than 6 months: 15,000 yen
Note: Electricity fee is not included. Water fee is included. International House and Takasone Dormitory C are located in different municipalities (city) and have different facilities, so there are differences in utility costs, etc. Please note that utility costs are subject to change without notice.
Notes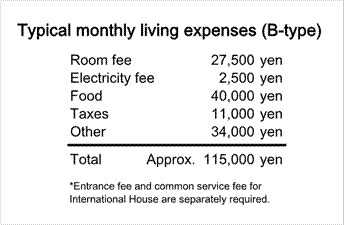 Location is on campus
Internet access is free of charge
*Each student room has a wired internet connection, and WiFi (wireless internet connection) is available in the Common Lounge
Use of KUT bicycles is free of charge
Bedding is replaced twice a month free of charge
Smoking is prohibited throughout the building
Overnight lodging for guests is prohibited
Parking spaces are not available
If the number of international students wishing to move in exceeds the number of rooms available, International Relations Center will select applicants based on the financial situation of the international student (scholarships, etc.) and the length of their stay.
Floor MAP
A type(with Kitchen)

Resnanti Utami Handayani (from Indonesia)

I feel comfortable living in this room with kitchen. For today's lunch, I made stir-fried veggies in Indonesian style with the spices I brought from my country. I enjoy chatting with other residents during my free time, and I also enjoy the special experiences often provided in the Communication Hall. The International House is a good place to deepen understanding of different cultures.

Room fee : 30,000 yen/month

B type(without Kitchen)

Junthorn Udorn (from Thailand)

I use my laptop both in my room and in our lab to push forward my research. I also work hard to master Japanese. To remember Japanese words and to keep Thai proverbs in my mind, I usually utilize my refrigerator. I write those words on slips and put them on the fridge. Cooking and eating is a fun time for me because I can communicate with other residents in the common kitchen and the lounge. We enjoy dinner together several times a week.

Room fee : 27,500 yen/month
Youjo Chin (from Japan)

The life in the International House makes me feel like I'm abroad and it continues to inspire me. International residents often tell me the differences between Japan and their countries and ask me about Japanese culture. Through such a daily life, I sometimes find out that what I used to think of as a common sense is not common at all in international society.
Communication hall
The communication hall is an open space for the residents, KUT students, faculty, staff and local community members to mingle. A wide variety of formal or informal meetings are held here, such as welcome/farewell parties for international students, seasonal events and national festivals of different countries.
Entrance hall

Tea-ceremony house

Building manager's office
Mailboxes

Vending machine

Center court
Common lounge
There are lounges equipped with large TVs and tables on the 2nd, 3rd and 4th floors. The residents can enjoy dinner together or spend free time watching TV and chatting.

Laundry room
Located in each segregated area and on every floor (the 1st floor laundry room is for both sexes). Each laundry room has 3 washing machines and 3 dryers. Free of charge.

Security
Entrance to the building, elevators and gender-segregated areas are secured electronically. The residents gain access with their student ID cards.
Common kitchen
All residents of B-type rooms share two kitchen spaces on the 3rd and 4th floors.

Front door

Unit bath and Toilet
Information for prospective residents
The application form is available here.
Move-in time is from 8:30 am to 5:00 pm, weekdays.
General Information

International House at Kochi University of Technology

Address.

185-1 Miyanokuchi, Tosayamada, Kami City, Kochi 782-0003, Japan

Tel.

+81-887-53-1130

International Relations Center (IRC), Kochi University of Technology Tosayamada, Kami City, Kochi 782-8502, Japan